Not Too Long Ago, One of Our Users Asked Us, about 301 Redirects: What Are They and How to Use Them? If you're a website owner or handle a client's website, it's important to learn about redirects, how they affect your research rankings, domain authority, and what's their importance for your site's overall health.
In this article, we'll take a closer look at 301 redirects. By the end of the post, you'll able to know what they are, how you can create them for your WordPress website, and how to use them.
Let's start with the basics…!
What are 301 Redirects?
301 redirects are a way of telling your user's browser and search engines that you've permanently moved a webpage to another location.
Think of it as the mailing address to your house. When you decide to move, you'd want your mail to be forwarded to the new address. For that, you'll have to set up mail forwarding.
It's the same with redirects. When you move a page on your website, you want to direct people to the new location and not see an error.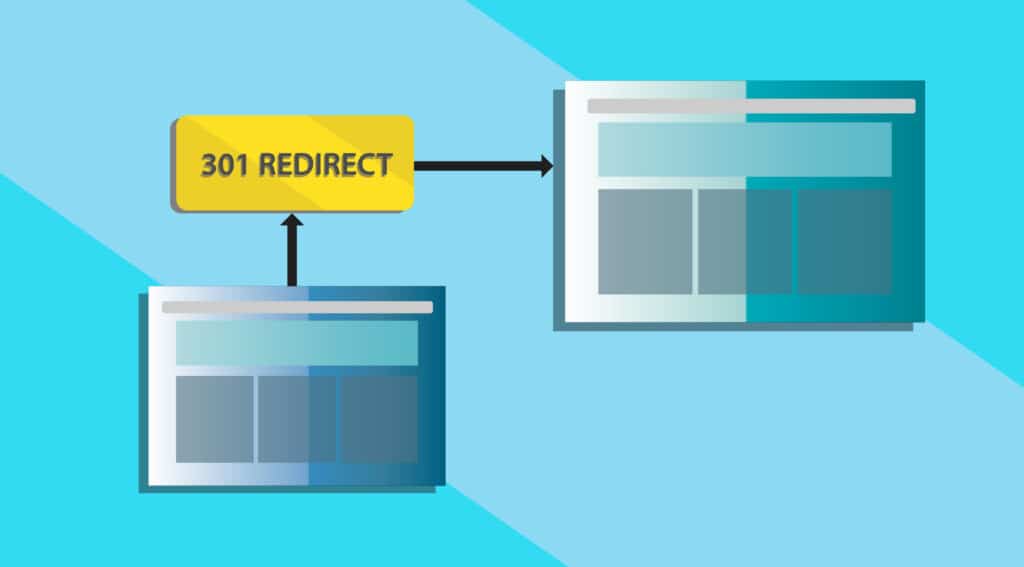 So, if someone enters a URL in their browser or clicks on a link from the search results, a 301 redirect automatically points them to the new page destination, without having to enter a different URL.
This way your visitors get to see the page they intended and you won't lose any traffic.
Besides that, you may wonder, why are 301 redirects important for your site? Let's find out…
When 301 Redirects: What Are They and How to Use Them?
As a marketer or a site owner, setting up redirects can help improve the performance of your site. Here are a few situations where they are useful.
1.  Migrating Content or Deleting Pages
If you're planning on merging several pages, you'd want to add 301 redirects on all the pages that you're merging and point to the new page.
The same goes for pages you're deleting. Since the page no longer exists, you'd want people clicking on the old URL to land on a new page.
This might not seem like a big deal but not setting up redirects will lead to 404 errors, which is bad for your website's SEO.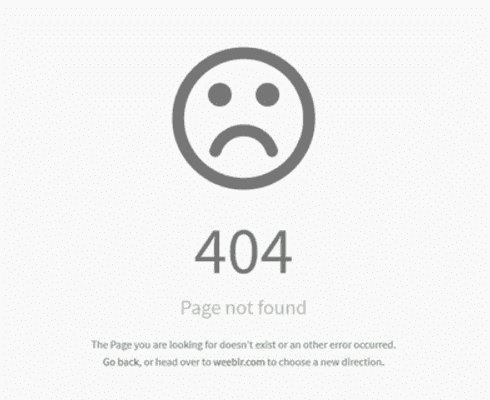 But with 301 redirects, search engines know that you've migrated your content to a new location and will find your page faster.
2. Changing Company Name or Rebranding
If you're planning on changing your company name or decide on rebranding your site anytime soon, then it's important to set up 301 redirects.
This way, you can retain the power of your inbound links and direct them to the new domain.
It also improves user experience, as people who don't know about your new company or brand name might enter the old web address. Since you don't want them to see an error, 301 redirects will automatically take them to the new domain.
3. Change the URL of Your Page
Imagine a situation, you created a new post but made a mistake when adding the URL. These mistakes could be as small as forgetting to add a keyword, a spelling mistake, or entered an incorrect URL.
It's alright, we all make errors.
You can fix this issue by creating a 301 redirect for the post and point it to the correct URL you initially intended.
4. Fix Broken Links
Similarly, using 301 redirects, you can remove broken links from your website.
Broken links are URLs that don't work or are no longer available. Having broken links is bad for your website health, as it negatively impacts your SEO, domain authority, and over site health.
That's because search engine crawlers cannot find the right content if you have broken links. Similarly, it destroys your user experience as visitors can't access the content they wanted.
So, with the help of redirection, you can quickly fix broken links and point them towards another URL that's working.
You can follow our simple guide on How To Add Floating Social Share Buttons To WordPress Posts to get started.
5. Moving from HTTP to HTTPS
You've probably heard by now that HTTPS websites are more secure and search engines prefer them over the old HTTP.
If your site isn't on HTTPS yet, then consider moving it. That's because it's a huge trust signal for your visitors and sends a positive signal to search engines.
And to that, you can add SSL certification and move your site from HTTP to HTTPS.
However, you'd want to add 301 redirects to your website to migrate it from HTTP to HTTPS. You may wonder, what happens if you don't set up a redirection?
For starters, if you simply enter HTTPS in the URL, you'll see the following security warning. That's because modern browsers are able to detect SSL certificates and if they don't find a match, they'll display an error.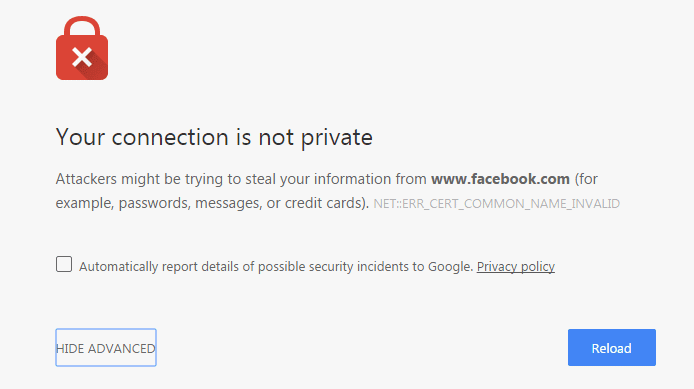 To prevent this warning message from appearing, it's better to set up 301 redirects and land your visitors to the new, more secure HTTPS web address.
6. Track Your Banner Ads
Do you want to track your banner ads? If yes, then redirection can help you out.
By setting up redirects on the URL of your banner ads, you can essentially track how many people click and visit the ad.
It's a good tracking measure if you're not using any tool to measure how much money you can make from your ads.
With that, are you ready to set up 301 redirects on your website?
How to Set Up 301 Redirects on Your WordPress Website?
If you have a WordPress website, then setting up redirection is easy using a plugin. But when it comes to selecting a plugin, you could be spoiled for choice.
There are different plugins you can use and redirect pages on your website. So, which plugin should you choose? Let's take a closer look at our top picks.
Redirection is one of the best WordPress plugins for creating 301 redirects on your website. It's super simple to use and helps you manage your 301 redirections, keep track of 404 errors, and reduce errors.
Once you've installed the plugin, you can access it by going to Tools » Redirection. Then click Add New at the top and you're ready to create a 301 redirect for your site.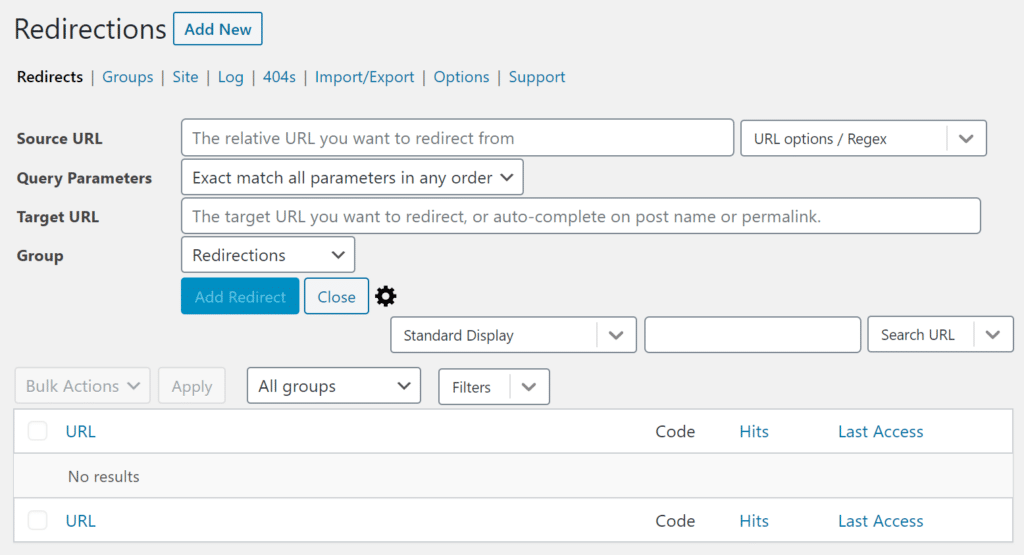 Its redirect manager lets you see all your redirections. You can even create conditional redirects along with simple 301 redirects.
For instance, you can set up a redirect on the basis of specific browsers, cookies, user's login status, HTTP header, page type, IP address, and more.
Page Links To is another redirection plugin you can get your hands on. The plugin is designed to redirect specific pages and posts to another page.
It's useful if you are thinking of migrating your content or want to keep an existing URL but redirect the users to another page. This way you can get to keep the power of the inbound links and transfer link juice to the new page.
So how do you use Page Links To? When you activate the plugin, you'll see a meta box in your post edit screen. Simply enter the URL where you want to redirect users to and the plugin will take care of the rest.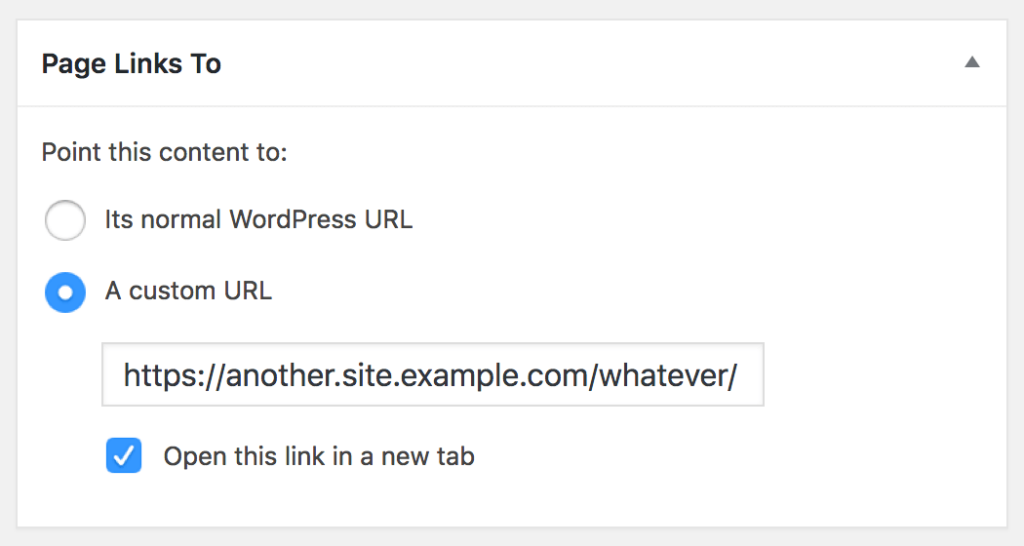 You can also use it to create attractive URLs and convert complicated links into more readable text. These are helpful if you have different affiliate links on your website.
Pretty Links Pro is another popular plugin that offers loads of features. It's more than just a redirection plugin, as you can use it to manage all your affiliate links on WordPress.
Some of its features include auto-link keywords, so you can easily look up different links. You can also set up advanced redirects, add header scripts, import and export links, get reports, sort affiliate links based on different categories and tags.
Besides managing your affiliate links, you can easily create 301 redirects using Pretty Links Pro. Just add the details of your existing URL and its target destination and select 301 redirects (permanent).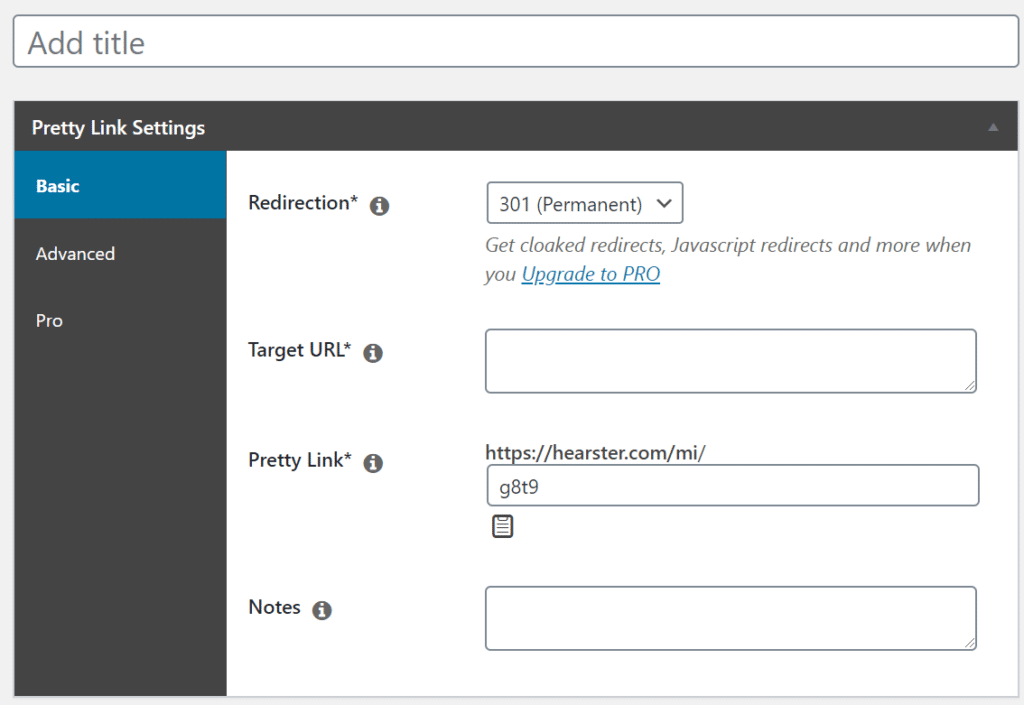 And that's it!
You now know what's 301 redirection and how to use them. They are a small yet powerful way of fixing errors on your website and improve your search rankings.
Don't forget to follow us on Twitter and Facebook for more detailed WordPress and Google Analytics tutorials.